Recap of the Sports Tech Research & Innovation Summit '22
Sports Tech Research Network 28/09/2022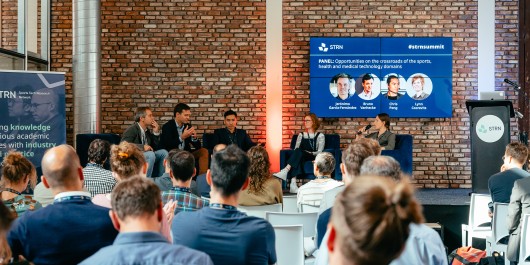 On 14 & 15 September '22, STRN organized the Sports Tech Research & Innovation Summit. What were the reasons behind organizing this event, and did we succeed? Let's find out!
The 2-day STRN event in Ghent, Belgium hosted an exclusive group of people from various academic and professional (industry and sport or health) backgrounds. Attendees from more than 15 nationalities were present, which resulted in a very diverse and high-quality audience.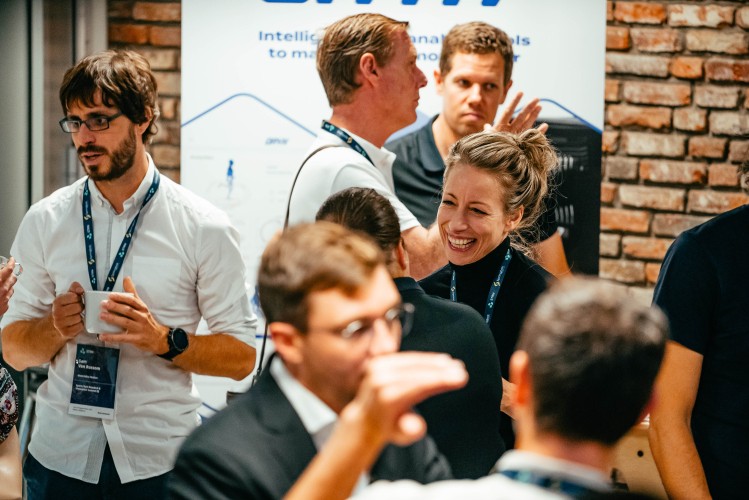 What was the underlying rationale for organizing a Sports Tech Research & Innovation Summit?
The rationale behind setting up this summit has been threefold.
First of all, it's been the obvious next step in building the network's activities and community. Throughout the pandemic, we started with a variety of online webinars, matchmaking activities and masterclasses. But, in the end, it's the people who innovate. So what's better than an in-person gathering of like-minded professionals from various backgrounds across the globe, having complementary interests and needs?
Secondly, positioning the event as a link between academia, industry and field practice is something that many have already said is needed, but not something that many individuals and organizations have already put into practice. In other words: we tried to fill a gap in the global ecosystem regarding translational aspects in sports science and technology for health and performance related purposes.
Thirdly, we wanted to create momentum and continue to learn which topics to put on the agenda in the coming year. As a young and fresh initiative, we were looking to further understand how to create maximum value for those who are already members and those considering becoming members in the future. We also wanted to give something back to those who believed in the idea from the beginning in 2020.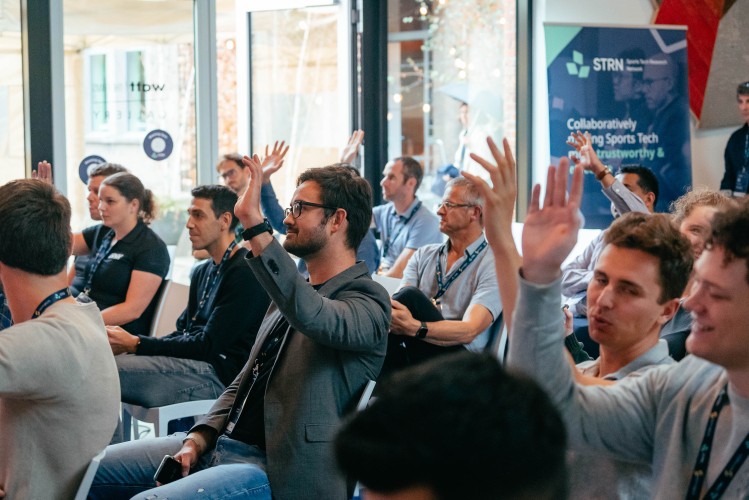 What was the actual goal?
As you might have noticed, this Summit was a bit different from many other conferences and events. It was neither an academic conference nor a commercial exhibition. It was about translational aspects, collaborative R&D efforts, university-industry interactions, etc., with the end goal of having reliable and effective solutions available on the market and used in the field.
Over the 2 days, we tried to offer speaking slots and provide content that could offer a glimpse into the answers to a variety of questions, such as:
What is on the shelve at universities and other research institutes that might be relevant for the industry and the ones working in the field of sports, fitness and health?
What are the newest products and services that have been the result of Research and Innovation activities, independent validation research, and/or partnerships with academic or sports institutes?
What are the specific needs, challenges and broader ambitions of teams, federations and innovation hubs, among others, as inputs for future R&D, product creation and implementation in the field?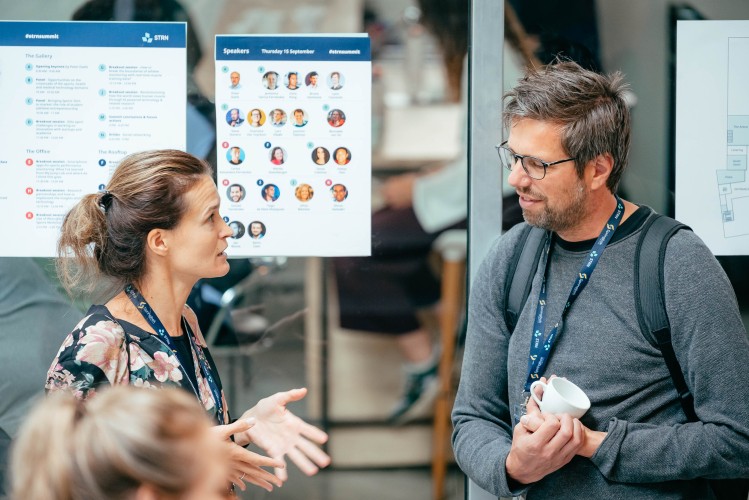 Do the best possible job in terms of connecting with the right people and using our time efficiently
While preparing for the event, we thought carefully about how to facilitate relevant interactions (starting before the event) and proactively making warm introductions between complementary profiles and organizations. Furthermore, we tried to boost the experience by doing the following 10 things as best as we could:
Set up a dedicated Conversation Starter page for the event on which people could present themselves and their needs and/or offerings towards the community, and where they were able to start planning meetings that could take place during dedicated time slots and meeting points
Limit the amount of plenary sessions such as keynotes and panel discussions, and ask for a standing ovation after each session (to bring extra enthusiasm and to just strech our legs now and then)
Prepare all of the above really well, so it would provide a nice starting point for future interaction later on (during and after the event)
Organize breakout sessions with only 15 minutes of speaking time and 20 minutes of interaction
Ask presenters not only to share what they have done in the past, but also to share their challenges, ideas, questions, etc. for innovation in the future
Bring together a group of motivated volunteers who facilitated Q&A and helped with a variety of practical aspects so everything was running smooth (we also made sure sessions started and finished on time)
Summarize the key conclusions from the parallel sessions, so people who could not attend those were updated about what was discussed and concluded
Offer some social activities such as a lab tour and evening drink, a city run and a VIP dinner
Make sure we have a good time in a nice venue, with good food and drinks easily available
Bring together the best people 😉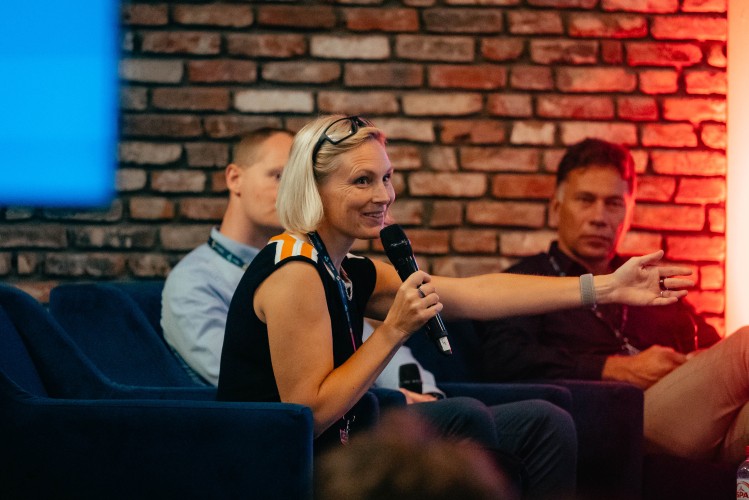 Final conclusions and next steps
We couldn't be more proud and grateful for what has been an amazing 2-day summit! The event clearly demonstrated that there is a certain (hopefully growing) group of people and organizations that realize that if we want to tackle some of the major challenges in this sector, we need high-quality expertise from a variety of fields and domains.
Based on all the feedback received so far, we really feel that events like the one we organized are the way forward. So, we will continue to reach out to high-level experts in the various areas we are trying to cover. We will also try to set up new partnerships with already existing networks, associations, societies, etc. But we also count on all of you! Please keep doing all the great work and inform us about it. Or just shoot us a message with any questions or suggestions you might have.
Special Interest Groups as the one we started on the topic of Quality Assessment of Sport Technologies will form an important part of the network, as they bring together a closer group of people working on particular topics and outcomes as e.g. the ones described in the STRN Vision Whitepaper.
Finally, from a governance standpoint, we are planning to further professionalize the initiative while also making it more sustainable from a resources perspective. For those who'd like to be involved in this process, reach out to us if you like.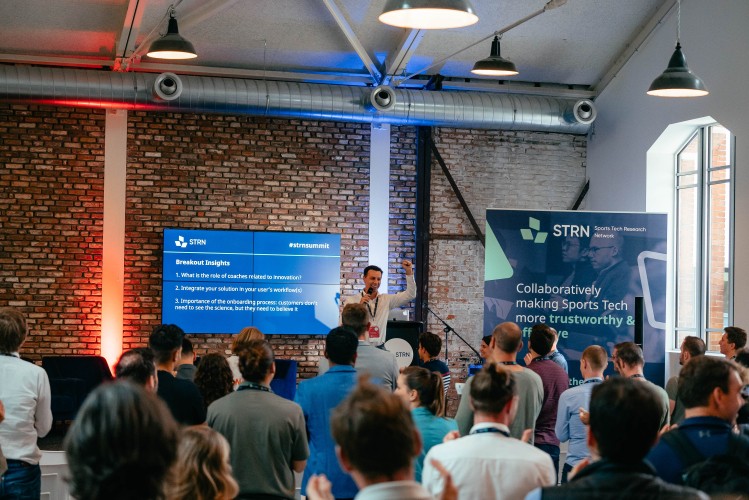 Watch the Summit aftermovie below:
Comments
There are no comments yet.